Dazzling Deepika Puzzle Free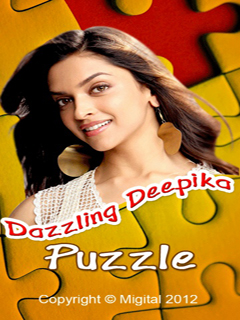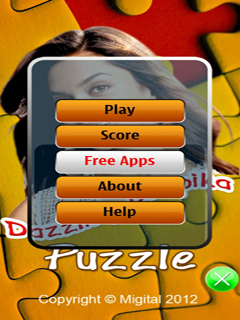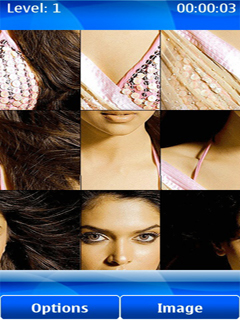 Description
Dazzling Deepika Puzzle Free Java Game
Glamorize your mobile with Dazzling Deepika Pudukone!! Have her in your mobile to see when you please..after just a bit of fun and play!
Rearrange all the randomly set pieces to uncover the image of dainty Deepika!Arrange all the pieces into the right places to complete each level.View a new image of the steamy babe, after every level.
The faster you finish a level the higher your score will be!Enjoy this never-ending game of pure pleasure!
SUPPORTED DEVICE
LG BL20,LG BL42k,LG GD550,LG GD710,LG GM630,LG GR500F,LG KS500 ,LG KT520 ,LG KT525 ,Nokia 2700 classic,Nokia 2710 Navigation Edition,Nokia 2730 classic,Nokia 3120 classic,Nokia 3600 slide,Nokia 3610 fold,Nokia 3710 fold,Nokia 3720 classic,Nokia 5130 XpressMusic,Nokia 5220 XpressMusic,Nokia 5300,Nokia 5310 XpressMusic,Nokia 5320 XpressMusic,Nokia 5330 Mobile TV Edition,Nokia 5330 XpressMusic,Nokia 5610 XpressMusic,Nokia 5630 XpressMusic,Nokia 5700 XpressMusic,Nokia 5730 XpressMusic,Nokia 6110 Navigator,Nokia 6120 classic,Nokia 6121 classic,Nokia 6124 classic,Nokia 6126,Nokia 6131,Nokia 6131 NFC,Nokia 6133,Nokia 6210 Navigator,Nokia 6212 classic,Nokia 6216 classic,Nokia 6220 classic,Nokia 6233,Nokia 6234,Nokia 6263,Nokia 6267,Nokia 6290,Nokia 6300,Nokia 6300i,Nokia 6301,Nokia 6303 classic,Nokia 6303i classic,Nokia 6350,Nokia 6500 classic,Nokia 6500 slide,Nokia 6555,Nokia 6600 fold,Nokia 6600 slide,Nokia 6600i slide,Nokia 6650 fold,Nokia 6700 classic,Nokia 6710 Navigator,Nokia 6720 classic,Nokia 6730 classic,Nokia 6750 Mural,Nokia 6788,Nokia 6788i,Nokia 7020,Nokia 7210 Supernova,Nokia 7230,Nokia 7310 Supernova,Nokia 7373,Nokia 7390,Nokia 7500 Prism,Nokia 7510 Supernova,Nokia 7610 Supernova,Nokia 7900 Prism,Nokia 8600 Luna,Nokia 8800 Arte,Nokia 8800 Carbon Arte,Nokia 8800 Gold Arte,Nokia C2-01,Nokia C5 5MP,Nokia C5-00,Nokia C5-01,Nokia E50,Nokia E51,Nokia E52,Nokia E55,Nokia E60,Nokia E65,Nokia E66,Nokia E70,Nokia E75,Nokia E90 Communicator,Nokia N71,Nokia N73,Nokia N75,Nokia N76,Nokia N78,Nokia N79,Nokia N80,Nokia N81,Nokia N81 8GB,Nokia N82,Nokia N85,Nokia N86 8MP,Nokia N92,Nokia N93,Nokia N93i,Nokia N95,Nokia N95 8GB,Nokia N95-3 NAM,Nokia N96,Nokia N96-3,Nokia X2-00,Nokia X5-00,Samsung B5702,Samsung B7320 OmniaPRO,Samsung C5510,Samsung C6112,Samsung i450,Samsung i450v,Samsung M2710 Beat Twist,Samsung M3310,Samsung M3510 Beat b,Samsung S3310,Samsung S5050,Samsung S5350 Shark,Samsung S5500 Eco,Samsung S5510,Samsung S5530,Samsung S5550 Shark 2,Samsung T469 Gravity 2,Samsung T659 Scarlet,Sony Ericsson C510,Sony Ericsson C510a,Sony Ericsson C702,Sony Ericsson C702a,Sony Ericsson C702c,Sony Ericsson C901,Sony Ericsson C901Greenheart,Sony Ericsson C902c,Sony Ericsson C903,Sony Ericsson C903a,Sony Ericsson C905,Sony Ericsson C905a,Sony Ericsson C905c,Sony Ericsson Cedar,Sony Ericsson G502,Sony Ericsson G705,Sony Ericsson G705a,Sony Ericsson G705u,Sony Ericsson K660i,Sony Ericsson K770i,Sony Ericsson K790,Sony Ericsson K790c,Sony Ericsson K800c,Sony Ericsson K810c,Sony Ericsson K810i,Sony Ericsson K818c,Sony Ericsson S500,Sony Ericsson S500c,Sony Ericsson S500i,Sony Ericsson S600,Sony Ericsson S700,Sony Ericsson T650i,Sony Ericsson T658c,Sony Ericsson T700,Sony Ericsson T707,Sony Ericsson T707a,Sony Ericsson T715a,Sony Ericsson TM506,Sony Ericsson W508,Sony Ericsson W508a,Sony Ericsson W518a,Sony Ericsson W580c,Sony Ericsson W580i,Sony Ericsson W595,Sony Ericsson W595a,Sony Ericsson W595c,Sony Ericsson W595s,Sony Ericsson W705,Sony Ericsson W705u,Sony Ericsson W715,Sony Ericsson W760c,Sony Ericsson W760i,Sony Ericsson W830c,Sony Ericsson W830i,Sony Ericsson W880i,Sony Ericsson W888,Sony Ericsson W888c,Sony Ericsson W890,Sony Ericsson W890i,Sony Ericsson W902,Sony Ericsson W908,Sony Ericsson W908c,Sony Ericsson W910i,Sony Ericsson W980,Sony Ericsson W995,Sony Ericsson W995a,Sony Ericsson XPERIA Pureness,Sony Ericsson z750a,Sony Ericsson Z750i,Sony Ericsson Z770,Sony Ericsson Z780,Nokia X2-05
Info
Info
Also on PHONEKY Java Games
Visitor
From: Reserved
Phone/Browser: Dorado WAP-Browser
Visitor
From: Reserved
Phone/Browser: SAMSUNG-GT-C3322i