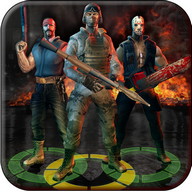 Zombie Defense
Description
Zombie Defense Android Game
Human tactics vs. zombie hordes.
Today, 7 billion humans live on our planet.
Over 100 billion lived and died on it in the past.
What if just a tenth of them came back... for us?
Description
A modern hybrid of the classic RTS and modern Tower Defense.
Recruit soldiers, place them on slots and let them shoot incoming waves of zombies by their own.
Manually move soldiers between slots, upgrade slots and soldiers, order supplies,
throw grenades and molotovs, order airstrikes and operate enormous bulldozers.
Perfect mix of strategy, tactics and micromanagement.
Еarn money on missions and spend them between missions to buy permanent technologies, upgrades, weapons ect.
Features
- 46 missions.
- 4 difficulty modes regular, nightmare, 3 man challenge, TV challenge
- 22 types of recruits.
- 150 permanent upgrades between each mission.
- 8 basic enemy types, from shambling creatures, to crawling horrors, to fast predators.
- 2 types of giant mutant zombie bosses for extra action.
- Zombie birds
- Decoys
- A gun rack of weapons, from trusty .38s, to deadly shotguns, to ultra-accurate sniper rifles.
- Нigh explosives to turn zombies into pink jelly.
- Molotov cocktails to stop zombies with a blazing inferno.
- Нeavy vehicles to crush every zombie in their path.
- Laser-activated turrets.
- Devastating airstrikes.
- Tesla towers
- Supply deliveries.
- Real-time soldier upgrades, recruitment and trading.
- Infinite mode for hardcore players who crave endless excitement.
- Special challenge modes.
- Нigh replayability allows you to complete each duty and return to it as you please, to earn more money and rise your score.
- Full 3D environment, highways, towns and deserts.
- leaderboards
- Regular free updates with more missions and upgrades.
The zombie apocalypse has begun, will you survive?
Info
Info
Review Summary
There are currently no reviews for this game
There are currently no reviews for this game.
Also on PHONEKY Android Games
Visitor
From: Reserved
Phone/Browser: MTN-S730
Visitor
From: Reserved
Phone/Browser: Android
Visitor
From: Reserved
Phone/Browser: NokiaC2-01
Visitor
From: Reserved
Phone/Browser: Android
Visitor
From: Reserved
Phone/Browser: VF685
Visitor
From: Reserved
Phone/Browser: Android