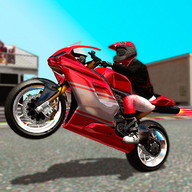 Speed Bike Racing
Description
Speed Bike Racing Android Game
The best motorbike simulator in an open road world with real car traffic!
Speed is what an extreme motorbike rider needs to get adrenaline so play speed bike racing to achieve that level. Passing between cars in traffic is very risky but now you can do it without any injury playing this awesome game. Did you remember all these bike gangs doing wheelies and riding illegal in the highways of the united states? Now you can do the same but with no police car chasing you. This is a game for everyone out there looking for fresh challenges and getting fresh skills driving a superbike. It does´t matter if you never learned how to ride a motorcycle because it´s super simple and fun for everybody. Achieve the max speed on your phone riding this high end super sport bike. This is not a moto gp race it is real life bike riding, you don´t have to mess with other pilots like rossi, marquez or lorenzo. Take care of reaching super speed because you can fall off the motorcycle. Сruise along the motorway avoiding cars to get to other cities. For example you can ride your motorbike a good distance like Los Angeles to San Francisco in just a few minutes and also get paid for the job. If you need speed this is your game just because the motorbike is so fast and you can achieve spectacular top speeds. Forget the police and pop a wheelie in the middle of the road passing all the cars. The most you ride the better skills you will get. You don´t have to respect any traffic sign, you can do it illegal. Burn the asphalt with your fresh tires and throw some smoke. This is an addictive game in which you are the best motorcycle rider ever and have to overtake everybody to get your job done. Don´t let your bike alone because a thief is around and can steal a bike. If you are focused in theft of autos. Bike has automatic gears so you don´t have to use the clutch, just press the power turbo button to pop a wheelie. Moto gp is a competition that does´t have nothing to do with this awesome speed app.
An outstanding and fun motorbike race through the streets
Info
Info
Review Summary
There are currently no reviews for this game
There are currently no reviews for this game.
Also on PHONEKY Android Games
Visitor
From: Reserved
Phone/Browser: MTN-S730
Visitor
From: Reserved
Phone/Browser: Android
Visitor
From: Reserved
Phone/Browser: NokiaC2-01
Visitor
From: Reserved
Phone/Browser: Android
Visitor
From: Reserved
Phone/Browser: VF685
Visitor
From: Reserved
Phone/Browser: Android