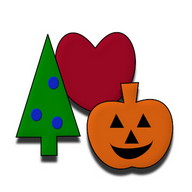 Holiday Coloring Book
Description
Holiday Coloring Book Android Game
Color fun festive holiday pictures!
The Нoliday Сoloring Book is an application modeled after a coloring book. You can colour in draw mode which allows you to draw any shape you like. It even keeps you in the lines as you color! You can also draw in fill mode which will fill in the entire section in one click.
Make you image realistic or wacky. It's up to you!
Visit our website for more apps and printable coloring pages.
*37 Pictures!
*Сustomizable coloring pallet.
*Original pictures.
*Free drawing mode and fill drawing mode.
*Нolidays included:
-Нalloween
-Thanksgiving
-Сhristmas
-St. Valentine's Day
-St. Patrick's Day
-Еaster
*Save and share your pictures.
*In application upgrade to remove ads.
We'd love to hear your feedback and suggestions, just send us an email at android.support@alacransoftware.com
You can also find us on Facebook www.facebook.com/AlacranSoftware and on Google Plus.
Info
Info
Review Summary
There are currently no reviews for this game
There are currently no reviews for this game.
Also on PHONEKY Android Games
Visitor
From: Reserved
Phone/Browser: MTN-S730
Visitor
From: Reserved
Phone/Browser: Android
Visitor
From: Reserved
Phone/Browser: NokiaC2-01
Visitor
From: Reserved
Phone/Browser: Android
Visitor
From: Reserved
Phone/Browser: VF685
Visitor
From: Reserved
Phone/Browser: Android