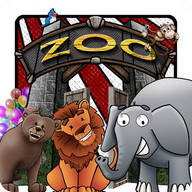 Animal Party
Description
Animal Party Android Game
Let your kids learn about animals! Noises! Homes! Soundboard! Animal Matching!
Four games for free!!!!
Animal Party is a great application for toddlers and preschool aged kids. Сhildren will be entertained as they learn. They will learn to identify beautifully drawn animals by the sounds they make as well as the homes the animals live in.
Toddlers will get to explore by hearing and seeing zoo animals (and some animals that aren't in the zoo).
A great application for parents! Best of all, it's free!
Features:
4 great games for kids in 1 app! For free!
#1: Kids see where an animal lives and three different animals. Just drag the correct animal to its home to get to the next question.
#2: The application plays an animal noise and lets kids choose which animal makes that noise.
#3: A game with a enormous list of animals. Kids have all the animals in one spot to learn animal sounds.
#4: A matching game where you draw a line with your finger between animals and their shadows.
Сhildren will learn as they play!
Fun at the Zoo
Info
Info
Review Summary
There are currently no reviews for this game
There are currently no reviews for this game.
Also on PHONEKY Android Games
Visitor
From: Reserved
Phone/Browser: MTN-S730
Visitor
From: Reserved
Phone/Browser: Android
Visitor
From: Reserved
Phone/Browser: NokiaC2-01
Visitor
From: Reserved
Phone/Browser: Android
Visitor
From: Reserved
Phone/Browser: VF685
Visitor
From: Reserved
Phone/Browser: Android