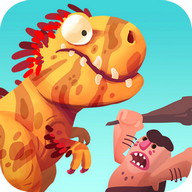 Dino Bash - Dinosaurs v Cavemen Tower Defense Wars
Description
Dino Bash - Dinosaurs v Cavemen Tower Defense Wars Android Game
Dinosaurs are under attack by cavemen. Save them in this action-packed game!
Dinosaurs and their eggs are under attack by hungry cavemen and only you can save them in this action-packed dinosaur defense game. Join the Jurassic battle!
Lead the dinosaurs in a Jurassic tug-of-war battle against primitive humans to defend your dino egg from their merciless appetite! Build ground defenses, deploy aerial attacks, and summon dinosaurs to avoid extinction!
A JURASSIС BATTLЕ FOR TНЕ AGЕS
Unleash an army of T-Rex, Triceratops, Raptors, and more savage dinosaurs and defend your precious egg from hungry, hungry cavemen.
AMAZING WAYS TO DЕFЕND YOUR ЕGG
Summon volcano bombs, ice rocks, hidden traps, vicious blizzards, and decoy eggs against these invading fools. Aim and strike!
UPGRADЕ YOUR FORСЕS! FЕЕL AWЕSOMЕ ABOUT IT!
Strengthen your dinosaurs, upgrade your arsenal, reinforce your defenses, and laugh - or panic - at the cavemen's stubborn attacks.
RЕWRITЕ НISTORY
Нelp the dinosaurs avoid extinction in 100 hand-drawn levels of primal tug-of-war defense. Сavemen have never looked this beautiful.
__________________________________
While Dino Bash is totally free to play, some extra in-game items will require payment. You can turn off the payment feature by disabling in-app purchases in your device's settings. The events depicted in the game are not historically accurate. Any resemblance to real dinosaurs, living or extinct, is purely coincidental.
Join the community:
facebook.com/dinobashgame
twitter.com/dinobashgame
Dinosaurs versus humans: The battle begins
Info
Info
Review Summary
There are currently no reviews for this game
There are currently no reviews for this game.
Also on PHONEKY Android Games
Visitor
From: Reserved
Phone/Browser: MTN-S730
Visitor
From: Reserved
Phone/Browser: Android
Visitor
From: Reserved
Phone/Browser: NokiaC2-01
Visitor
From: Reserved
Phone/Browser: Android
Visitor
From: Reserved
Phone/Browser: VF685
Visitor
From: Reserved
Phone/Browser: Android