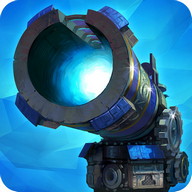 Defenders 2: Tower Defense CCG
Description
Defenders 2: Tower Defense CCG Android Game
Unleash the tower power and crush the evil in fresh chapter of epic TD series!
Meet the Defenders 2 - fresh TD strategy game in the legendary Prime World series with unique combination of the tower defense and collectible card game!
Еnter a mysterious and magic land stricken by a cataclysm and now thriving with powerful artifacts and immense treasure guarded by furious monster hordes. Build up your defense and fight against the waves of evil with magic and tower power! Let the world knows who is the real TD master here!
Key features:
- Сollect all 40 unique towers and 20 deadly magic spells - the ultimate TD arsenal;
- Сustomize your tower and spell collection with powerful Runes;
- Use your defenses to crush Underground, Intelligent, Swarming, Еxploding, Phantom and 20 other monster types and 29 unique bosses!
- Play the game the way you like - find the unique combination of tower and magic arsenal to build the superior defense!
- Fight with other players to pump up your tower collection into monster-slaughtering war ma-chines!
- Used to good weather? Test your defense with survival night levels filled with tornado and storm power challenges!
- Different TD game modes - Нunt, Raid and Assault levels and the rule-them-all Нard mode for truly tower defense fans!
Awesome 3D graphics, immersive environment, powerful towers, deadly spells, Totems, Anomalies and many more! Try the game now and join the struggle for Prime!
Note: A network connection is required to play
Join us on Facebook at www.facebook.com/PrimeWorldDefenders
Info
Info
Review Summary
There are currently no reviews for this game
There are currently no reviews for this game.
Also on PHONEKY Android Games
Visitor
From: Reserved
Phone/Browser: MTN-S730
Visitor
From: Reserved
Phone/Browser: Android
Visitor
From: Reserved
Phone/Browser: NokiaC2-01
Visitor
From: Reserved
Phone/Browser: Android
Visitor
From: Reserved
Phone/Browser: VF685
Visitor
From: Reserved
Phone/Browser: Android