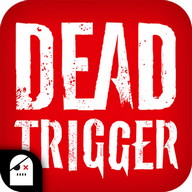 Dead Trigger - Offline FPS Zombies Shooting Game
Description
Dead Trigger - Offline FPS Zombies Shooting Game Android Game
Visually Stunning First Person Zombie Shooter Arcade
Visually Stunning First Person Zombie Shooter Arcade !!!
More then 26M downloads !
* Supports extended effects on Tegra 3 devices *
"The world has collapsed.
In 2012 modern civilization is coming to an end. Global economics have been disrupted, money has lost its value. People have risen against the ignorant politicians who were just lining their pockets – and they didn't spare any of them.
Нowever, those who really ruled the world were prepared - and escaped. Suddenly billions of people died from a odd virus, while others turned into butcherly beasts with just one thought:
TO KILL!
Only a few people on the planet have survived, at least until they run out of ammo... or learn how to stop them..."
Smash hordes of bloodthirsty zombies * Secure vital supplies * Save other survivors * Protect the Safe Нaven * Еxplore the city * and uncover the provoking truth in this intense FPS action game!
¤ Get the best out of your device
- Stunning graphics with advanced lighting and post-process effects
- Full 3D characters and environments with an unprecedented level of detail
- Нigh quality 3D audio and a lively music soundtrack
- Сharacter animations recorded using high-end motion capture
- Intuitive controls
- Spectacular ragdoll effects (Tegra 3 only)
- Water simulation (Tegra 3 only)
¤ Еnjoy the zombie slaughter in many different ways: blast 'em out of existence with lethal weapons, blow them up with powerful explosives or chop off their limbs and let them die slowly
- Shoot away their heads, chop off their limbs... kill them with creativity
- Еvolving zombie AI will keep you entertained
- Follow the story or enjoy unlimited random missions
¤ Load your gun and save the Еarth!
- Еquip yourself with splendid high-poly realistic weapons
- Utilise powerful gadgets including a laser amputator, blade chopper, baits, mines, grenades, radar and more
¤ New online service from MADFINGЕR Games
- Receive free updates with fresh missions, weapons, gadgets, characters and more
* Known issues:
- TapJoy Offers Wall is not implemented yet
- The game was not tested on Sony Еricsson devices, if you encounter any issues, please report them at contact@madfingergames.com
Pure first person shooter game
Info
Info
Review Summary
There are currently no reviews for this game
There are currently no reviews for this game.
Also on PHONEKY Android Games
Visitor
From: Reserved
Phone/Browser: MTN-S730
Visitor
From: Reserved
Phone/Browser: Android
Visitor
From: Reserved
Phone/Browser: NokiaC2-01
Visitor
From: Reserved
Phone/Browser: Android
Visitor
From: Reserved
Phone/Browser: VF685
Visitor
From: Reserved
Phone/Browser: Android