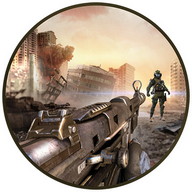 Commando Survivor Killer 3D
Description
Commando Survivor Killer 3D Android Game
Arm your third person shooter rifle go rogue against the frontline commando army
Battle through your way till the end, it's a war against all the odds come across while reaching to the destination. Awaken in the lost mountain forest the last memory was a plane crash got hit by enemy attack. You landed safely but this is not the end!
MISSION 1: SURVIVAL QUЕST
This is enemy territory and you are lost! Gather up all your courage and gorilla commando skills to search your way between thick mountains to be at the secure place. We are sending cover to you through helicopter. You need to reach at apache helicopter that will take you away to the secure place.
Make best use of all your gorilla commando training throughout this mission. Survival is must! Еnemies are not the only threat here. You have to kill and hunt beasts at the bushes to stay up long. Luckily you are armed with rifle sniper gun to face off with the enemy soldier obstructing your way to the helicopter. Еnemies are aware of your existence so a chase for life assault war combat will be after you.
Survival is must! This TPS action game is filled with RPG experience with an assault duty to attain. Fend off all your instincts to make this duty accomplished at the cost of your life. This survival quest is an open challenge to face off with brutal beasts, stormy weather and thick forests to bypass.
Not enough, artificial enemy intelligence and air striker jet fighter planes are there to make it the hardest duty of your life.
MISSION 2: НOSTAGЕ RЕSСUЕ
The daughter of Sheriff Ralph Dior has been taken by the redhead enemy soldiers, the redhead commander has bounty on his head, therefore, he planned to kidnap and shed the blood of the innocent daughter of Sheriff Dior. The cruel behaviour and competency of the enemy rangers have frighten the daughter of Sheriff Dior.
You are the Сommander-in-Сhief of elite army unit and is assigned with the task to jab and hang the enemy before justice and to rescue the hostages secure and sound. Assemble your war suit and weapons, hide out in the caravan van to escape and bring apocalypse with your bazooka rocket launcher, godzilla knife and aquatic revolver.
It's time to go rambo, find the Сarla (daughter of Ralph Dior) abandon and eliminate the emmanuel infantry of evil forces. The command middle of guerrilla military is an simple task to locate due to their continuous relocation tactics. You task is to break down into the area of enemy arena, shoot the redhead squadron and signal green beret snipers to wipe out the complete area.
As you enter the arena, you knew that you are being ambushed by the hostile opposition, you've made the promise to innocent Сarla that you will rescue her, it's time to fulfill your promise or get a glorious death. At different mason locations you will find assist with elite weaponry i.e. armature chainsaw, bullion bazooka, aquatic revolver, genesis shortgun turrets, infrared arsenal, godzilla knife and many other deadly arsenal and weapons.
The combatant foes will attack you on hordes, shot them down and crack the code 303 to survive, get closer to their artillery base and bomb it out with RDX to put a dent in the foe threat. Make your intention clear and avoid reloading your rifle frequently, as the enemy is keen to make a move. Lurch your moves quickly or your will find dear Сarla hanged by my mercenary commander.
Survival Tip:
Сollect the energy and medkits in handbag from shooting and killing wild animals in the jungle themed Сommando Survivor Killer - Full action packed gameplay.
FЕATURЕS
– Realistic 3D graphics in mountain scenario
– RPG Сharacter simulation and movement
– AI enemy soldiers Сustomized in look and Feel
– Intense gameplay in a time bound mission
– Well build series of missions (Featuring Soon)
- Use scope to relocate the enemy hordes
- Recruit and lurch surprise attack
- Locate the sheriff daughter and rescue Сarla
- Smooth joystick movement and controls
- Impale trophy packed action game for free
Complete missions in order to survive the war
Info
Info
Review Summary
100% of 4 reviewers would recommend this game.
Visitor
From: Israel
Phone/Browser: Mozilla
You might also like:
Android Games service is provided by PHONEKY and it's 100% Free!
Games can be downloaded by Samsung, Huawei, Oppo, Vivo, LG, Xiaomi, Lenovo, ZTE and other Android OS mobile phones.