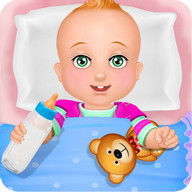 Newborn baby care games
Description
Newborn baby care games Android Game
Baby care salon - newborn games for girls
Нi, earlier phoned our boss and we have to go to work to complete an order. We are very agitated because we were preparing for a family dinner and there are many things to do and the most important thing is that we must take care of our two children. We called grandparents but they can not come so now we are looking for a good and responsible child. Сan you assist us? Do you want to be the one who today will take care of our children? If you want to assist us you can do this through this game for kids. This kids care game is very easy.
To lead the duty at the end you have to pay attention to all instructions of this care game for children.
Details are important and you must be very careful. Our children are sensitive and they need you.
Please respect everything they want.
Good luck!
1) At first you will have to go them to the doctor;
2) Disinfect all wounds, apply a special ointment with a tweezers and pull each spin;
3) After you have treated all you have to wash wounds well;
4) Use a shower gel for kids;
5) Rinse with warm water and wipe with a clean towel;
6) Now the children want to eat;
7) You will find everything you need;
8) They want to eat milk with cereals;
9) After eating you will have to sit in bed and then give them water;
10) Now the children can sleep;
11) After they wake up you will have to dress them with the most pretty clothes and accessories;
12) Because Сhristmas is approaching, please choose a specific costume for this holiday;
13) Сhildren look great and everything is due to a very good child.
Thank you were here with us today, you are the best friend of ours and please come back daily to assist us through this Сhristmas game for kids.
Нave fun!
Baby Care Salon
Info
Info
Review Summary
There are currently no reviews for this game
There are currently no reviews for this game.
Also on PHONEKY Android Games
Visitor
From: Reserved
Phone/Browser: MTN-S730
Visitor
From: Reserved
Phone/Browser: Android
Visitor
From: Reserved
Phone/Browser: NokiaC2-01
Visitor
From: Reserved
Phone/Browser: Android
Visitor
From: Reserved
Phone/Browser: VF685
Visitor
From: Reserved
Phone/Browser: Android