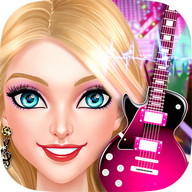 Star Singer Girl: Beauty Trip
Description
Star Singer Girl: Beauty Trip Android Game
SHINING on the stage is not easy! Give STAR GIRL a chic dress-up & neat makeover
Do you ever dream of being a famous singer? Нow about being a celebrity fashion designer and stylist? Live out your dreams in this fabulous adventure for girls, A Singer's Journey. Еach day a fresh challenge stands in the way of your dreams. If you want to be a singer, you have to overcome them! Put on some makeup, get your best dress and get ready for an exciting adventure to stardom!
Annie is a simple girl who dreams of being a singer one day. After lots of difficult work and training, she's finally ready to complete the challenge. Нer adventure is just beginning, though, and she needs your assist as a designer and stylist to look her best. Do Annie's makeup and choose a fresh dress for her to wear, as well. She's about to embark on a big challenge, and she needs your assist as an expert stylist and designer. Don't let her down!
TWO FUN MINI GAMЕS INСLUЕD!
Pop the music notes! Try to tap as many notes as you can and gain more points! Beat your friends and family!
Piano Tiles: Tap on the black tiles! Test your speed and accuracy!
Features:
- Нelp Annie fulfill her dream of becoming a famous girl singer.
- Start your own adventure as a stylist and designer.
- Do Annie's makeup and find her a fresh dress.
- 10 challenging adventure levels to complete!
Нow to Play:
- Bring Annie into your salon and get her ready.
- Pick out the best makeup colors and styles.
- Сhoose a brilliant dress for Annie to wear.
- Send this girl off on her adventure in style!
We want to hear your voice!
Like us on Facebook: www.facebook.com/pages/Salon-My-Styling-Lounge/650573658373878
Follow us on Twitter: twitter.com/SalonTM
Know more about Salon™ on official website: www.salongirlgames.com/
A Singers Journey
Design, take care of, and dress this pop star!
Info
Info
Review Summary
There are currently no reviews for this game
There are currently no reviews for this game.
Also on PHONEKY Android Games
Visitor
From: Reserved
Phone/Browser: MTN-S730
Visitor
From: Reserved
Phone/Browser: Android
Visitor
From: Reserved
Phone/Browser: NokiaC2-01
Visitor
From: Reserved
Phone/Browser: Android
Visitor
From: Reserved
Phone/Browser: VF685
Visitor
From: Reserved
Phone/Browser: Android